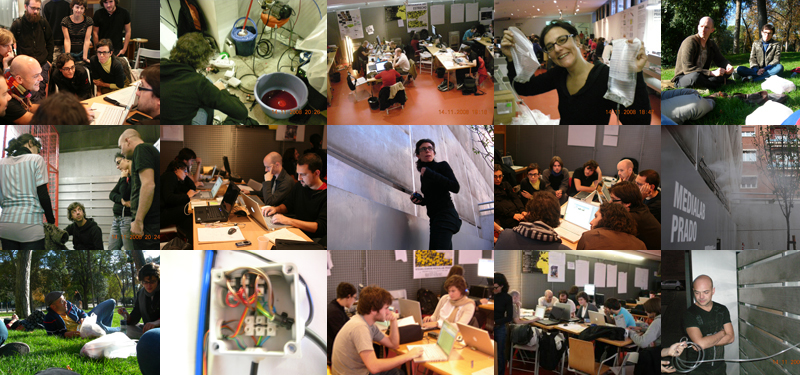 Additional Assistance

Andrés Ortiz from Bestiario, Fabien Girardin, Juan Freire, Adam Greenfield and José Luis de Vicente have been tutoring and questioning throughout the process. Their participation was crucial in shaping the thinking behind the project.
Santiago Ortiz, Martin Nadal, Steven Pickles (Pix) and Aaron Meyers have assisted throughout the whole workshop with coding, 3D representation, interpolation and particle systems. Their dedication has been fundamental to the design of the digital tool. Thanks to Bit Carrier who helped with data collection.
Regarding the physical prototype, thanks to Brumizone for lending us the equipment and and Oscar and Jose for their assistance. Thanks as well to Quito, Hangar and the Universidad Europea for economic support.
Project Credits

In the Air is a project by Nerea Calvillo along with the best team possible:
Sandra Fernández - Anthropologist
Carlota Pascual - Architecture Student
Greg J. Smith - Designer / Researcher
Guillermo Ramírez - Architecture Student
Miguel Vidal - Architecture Thesis Student
Paco González - Architect / Blogger
Raphaël de Staël - Artist
Susanna Tesconi - Technoteacher
Victor Viña - Interaction Designer

In the Air was developed at Visualizar'08 directed by José Luis de Vicente at Medialab-Prado. We thank these excellent organizers for their energy and support in providing an optimal environment for experimentation and collaboration.