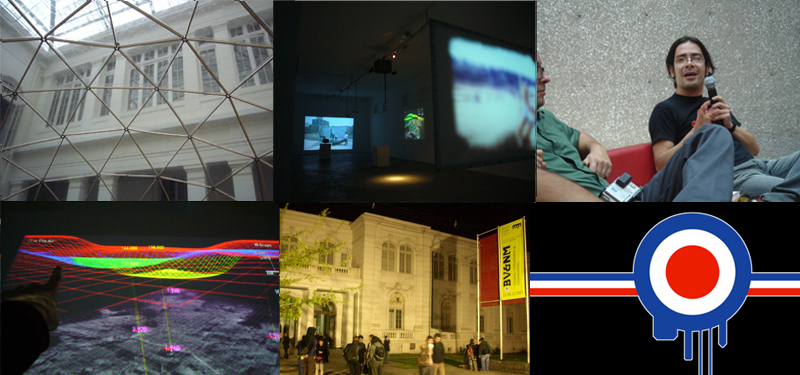 In the Air budapest is a project by

Nerea Calvillo with:
Katha Caceres, architecture student. Contents.
Francisco Calvo, architecture student. Contents.
Christian Oyarzun, digital artist. Code development.
Ricardo Vega, designer. Contents.
Santiago In the air has been developed at the Museum of Contemporary Art of Santiago de Chile (MAC) in August 09 in the context of the Video and Media art biennale of Chile BVAM09, where the project was exhibited at the international curatorship selected by Valentina Montero. We thank the Spanish Cultural Center for their generosity with their installations. In the Air was started at Visualizar'08 directed by José Luis de Vicente at Medialab-Prado.
The project has been developed thanks to Funding for the Internalization of Culture of the AECID.
Santiago de Chile es un proyecto de:

Nerea Calvillo con:
Katha Caceres, estudiante de arquitectura. Contenidos.
Francisco Calvo, estudiante de arquitectura.Contenidos.
Christian Oyarzun, artista digital. Desarrollo de código.
Ricardo Vega, diseñador. Contenidos.

Santiago de Chile In the Air se ha desarrollado en el Museo de Arte Contemporáneo de Santiago de Chile (MAC) en agosto 09, durante la Bienal de Vídeo y Artes Mediales de Chile BVAM09, donde el proyecto fue expuesto en la sección de comisariado internacional seleccionado por Valentina Montero.Agradecemos al Centro Cultural de España su generosidad para utilizar sus instalaciones. In the Air se inició en Visualizar'08, dirigido por Jose Luise de Vicente en Medialab-Prado.
Asimismo el proyecto ha sido desarrollado gracias a una Subvención para la Internalización de la Cultura española de la AECID.