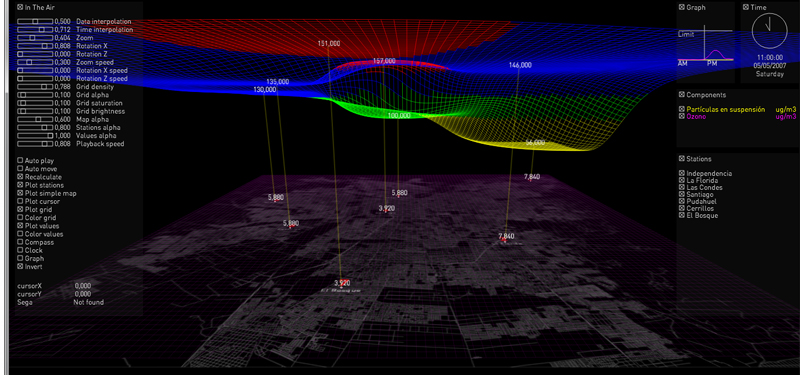 Visualization Instructions


Turn on one or more components
Select viewing parameters: rotation X and Z
Turn on Plot values (values in each station)
Turn on Plot grid (topography generated)
Turn on Auto Play (variation over time)
Turn on Plot Cursor (geographical location of user)
Play with all the other parameters to personalize the visualization
Please note that

In the Air digital tool is a large (8MB) applet. Depending on the speed of your connection this may take a moment to load and we are still working on refining the web performance. The application will open in a separate window and you may need to set your browser to allow this pop up and/or accept a "security certificate" from Sun Microsystems (the developer of java).
Instrucciones


Clicar uno o varios componentes
Seleccionar parámetros de visualización: rotación X y Z
Encender Plot Values (valores en cada estación)
Encender Plot grid (malla)
Encender Auto Play (variación en el tiempo)
Encender Plot Cursor (localización geográfica del usuario)
Jugar con todos los demás parámetros de visualización
Tener en cuenta:

In the Air es una aplicación grande (8MB). Dependiendo de su velocidad de conexión puede que tarde unos segundos. Seguimos trabajando en el comportamiento web. La aplicación se abrirá en una ventana independiente y quizá necesite que su servidor acepte el pop up y/o acepte el "certificado de seguridad" de Sun Microsystems (el desarrollador de java).