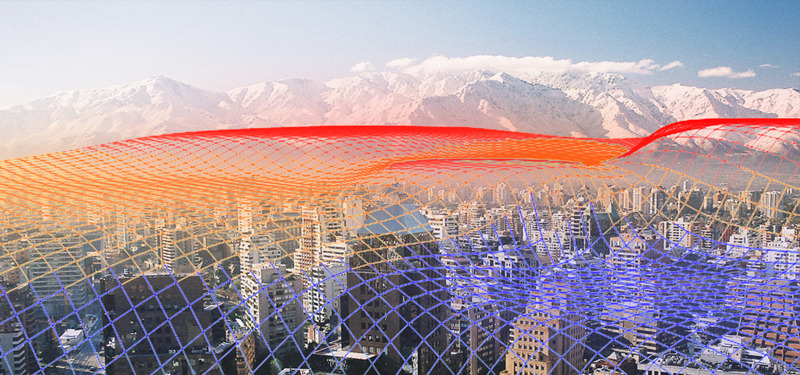 Descripción
In the Air es un proyecto de visualización que pretende hacer visibles los agentes invisibles y microscópicos del aire (gases, partículas, polen, virus, etc), para ver cómo se comportan, reaccionan e interaccionan con el resto de la ciduad.
La herramienta de visualización es una aplicación web que construye el espacio que los componentes generan, y mediante la cual a través de cruce de datos emergen patrones de conducta.
El proyecto propone una plataforma para la toma de conciencia y toma de decisiones individual y colectiva, donde la interpretación de resultados se puede usar para la navegación en tiempo real de la ciudad, la detección de localizaciones en función de su calidad del aire y como plataforma de acción política.
In the Air Santiago de Chile
La aplicación para Santiago de Chile ha sido desarrollada seleccionando dos de los contamienntes que más afectan a la salud y calidad de la vida urbana: Partículas en suspensión (PM10) y Ozono (O3).
Description

In the Air is a visualization project which aims to make visible the microscopic and invisible agents of the air (gases, particles, pollen, diseases, etc), to see how they perform, react and interact with the rest of the city.
The visualization tool is a web-based dynamic model which builds up the space the components generate, where through data crossing behavior patterns emerge.
The project proposes a platform for individual and collective awareness and decision making, where the interpretation of results can be used for real time navigation through the city, opportunistic selection of locations according to their air conditions and a base for political action.
In the Air Santiago de Chile

The aplication for Santiago de Chile city has been developed choosing two of the key pollutants that most detrimentally effect health and quality of life in the city. These contaminants are: Particulate PM10,Ozone (03).